Monthly Archives:
December 2016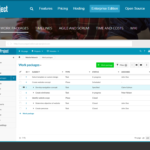 My head fills up with ideas all the time.  Communicating them to others becomes a problem.  Keeping track of them so they become a reality also becomes a problem.  Over the past two decades I've played around with lots of different project management tools, some good, some not so much.
This coming year I'm going to start having a crack at Open Project.
I started out trying to install 'Redmine' from the Debian repository on one of my vps servers.  That was a big fail!  My great friend Damien recommended giving OpenProject a crack, so I have.
This week I'm working to write more words for our web site as part of my work to fully implement the DTC billing system.
As you can see, I've also been blogging random notes related to the DTC-XEN software.
DTC-XEN is the software that we use to interface users with our own VPS servers and resources we purchase from other DTC-XEN server providers such as GPLHost Global Hosting.
htpasswd /etc/dtc-xen/.htpassword dtc-xen
telnet <hostname> 8089
yes, is it running ?
on the host # netstat -antop | grep 8089
Volume group "node64901-vg" has insufficient free space (0 extents): 96 required.
root@node64901:/var/lib/dtc-xen/mnt# cat 01.setuplvm.stderr
The Challenge
For the past few years we've been just sending out manual bills when we get round to it.  Not really very effective for running a productive profitable business.
An automated billing system presents a few challenges for us.  Our challenge is not just implementing a billing system but also choosing our software.
On one hand, we've been using DTC for our site hosting for over a decade.  The guys at GPLHost who wrote it have become our friends, but on the other hand, platforms like cPanel, WHM and ISPConfig3 are just want everyone uses.
DTC has spelling mistakes, it's complex and there's not a big community using it, should we change?  Should we just join a new community?  What about our friends of over a decade?
I've grown up with people complaining about Microsoft Windows being the only operating system that will work on their computer of choice for decades.  The answer was always simple, it's because it just works and everyone else is doing it.  Choosing to support something else is hard, it's still hard.
Our Commitment
It's not really a debate…  we're committed to DTC because we're also committed to choice.  Being free GPL software means that DTC presents a very low bar to entry for anyone wanting to provide hosting and collect payment.  You can run this software on you an old desktop computer off the end of your internet connection at home if you want to, we know, we have!
Our Implementation
Our implementation is meaning us making quite a few changes because unlike GPLHost (who wrote DTC originally) most of our customers choose to pay by internet banking and need New Zealand GST invoices.
We're adding the ability to get a proforma invoice, view your past payments with more details in a list, get an invoice emailed to you when payment is made, get your proforma invoice emailed to you.
We're also working to integrate with metaname.net domain name registrations and renewals so that when you pay for your hosting your domain name is automatically updated.
The Documentation
We wrote some instructions to help our customers figure out how to pay!  You'll find those here:  http://www.yournet.co.nz/paying-your-account/
Our control panel also has a manual, and you can find that here:  http://www.yournet.co.nz/dtc-hosting-control-panel-instruction-manual/
Our Customers
As a customer you'll start to see emails coming from us telling you when your service needs paying for.
Some people have asked for invoices with their reminders.  The problem with invoices is that we give you the choice to renew your service for as long as you like, so we don't know what period to invoice for.  So we've made the ability to raise proforma invoices and get your invoice once you've paid.
Getting a global reach is important
But how to afford it on a budget for a small player like YourNet is a challenge.
For the past decade we've worked with the team at www.GPLHost.com on development of the DTC hosting control panel and resource billing system.
At present we're working to build a wholesale platform that will let small local providers like us get a global reach under our own brand but using GPLHost resources.
'White Labeling' is not new, but normally works on the concept that all your services are from the same wholesaler.
YourNet already has servers in our own data center in Christchurch.  We want our VPS servers to appear in the same customer interface as our wholesale partners resources.
We also want to lend our resources to our wholesale partners.
Enter DTC and DTC-XEN stage left!
Our aim is to modify the DTC software platform so that we can build a network of providers who have redundant resources that we can present to our customers.
I felt it was time that YourNet had a blog, so welcome!